TAILOR-MADE SOLUTIONS
We can enhance your production capabilities by supplying ingredients that improve texture, flavor function and cost. We assist our partners in the following areas:
Gumming Pre-Coatings
Coating
Polishing
Glazing
Sealing
Souring
Anti-Sticking

Gelling
Thickening
Binding
Sweetening
Flavoring
Texturing
Adhesive
Our Confectionery Performers are a professional range of specialty ingredients for the production of sweets such as sugar-coated, chocolate-coated or compound-coated dragees, gums, jellies, or chewy toffees.
Our Confectionery Performers are used for stabilizing, glazing, whitening and sealing of various types of pan-coated products in which they reduce the risk of spot formation through water or oil migration on the product surface. They offer an alcohol-free alternative to shellac for sealing and polishing purposes.
They provide chewy toffees with the right texture without using animal gelatin. They act as anti-sticking agents for gums and jellies.   Our Confectionery Performers are based on natural raw materials and are available in Kosher and Halal-certified qualities; some Confectionery Performers within our range are offered in organic-certified quality.
Our professional range of Confectionery Performers are developed and produced in-house by our Contract Manufacturer with over 20 years of experience.  The Confectionery Performers provide functional ingredients for innovative product formulations.  We make sweets better!
Alcohol-free liquid polishing agent for chocolate-coated surfaces, including uneven surfaces
More info
Directly applicable without any pre-treatment
Aqueous, semi-viscous and turbid dispersion for easy dosage
Kosher and Halal certified
No sealing process with shellac or shellac-based products necessary
Allows 1-ingredient declaration
Protects the center crunchiness
Provides a stable and smooth surface gloss
Alcohol-free polishing solution for all types of chocolate-coated products and fat-based coatings, Nutra Shine
More info
Imparts unmatched surface gloss — Intensive, brilliant and long-lasting — on all types of chocolate-coated goods
Increases resistance to humidity
Makes solvent-based varnishes redundant
Is effective at low dosage
Reduces polishing time
Sealing agent for various types of pan-coated goods
More info
Stable gloss even under fluctuating temperatures and air humidity
Protection against mechanical stress during packaging
Suitable for use on light-colored goods
Easy handling
Positive synergies with other Confectionery Performers
Polishing agents for hard and soft pan-coated goods / dragees
More info
Nutra Glanz C– Pure, additive-free, spray-dried carnauba wax powder
Nutra Glanz H– Liquid carnauba wax dispersion for direct use
Nutra Glanz M – Mix of micronized beeswax and carnauba wax
Nutra Glanz L – Wax paste dispersion in highly stable vegetable oil
Nutra Glanz K – Micro-crystalline polishing powder (waxes + carnauba wax)
Glazing & Anti-Sticking agent for mogul and extruded products
More info
Optimum anti-sticking functionality
Protection against drying out
Uniform & transparent surface gloss
Based on highly stable, oxidation-resistant oils and purified waxes
Nutra Oil A 7701 based on MCT Coconut Oil with beeswax
Nutra Oil B 7401 based on MCT Coconut Oil with carnauba wax
Nutra Oil A 7551 Based on MCT Coconut Oil with beeswax and carnauba wax
New: now presenting Standard and Organic Oils based on Stable Sunflower Oil and carnauba wax
– Nutra Oil BS 7401 based on Sunflower Oil with carnauba wax
– Nutra Oil BS 7405
Nutra Oil palm-oil free – the "green label" alternative
Available in flavored versions upon request
Gumming / pre-coating agent for pan-coated goods
More info
All-in-one gumming solution and drying powder
Available on a sugar or polyol basis
Stabilizes soft centers
Strongly adheres chocolate coating to the center, reducing usage levels
A guaranteed solution, prevents migration of fat- and moisture- containing centers over the shelf life
Maintains a crunchy bite of nut-containing centers
Enables uniform panning
Reduces production time
Works in traditional coating pans and automatic coating lines
Easy to handle
Fine, white powder mix of sugars and natural hydrocolloids.
More info
Replaces titanium dioxide in the recipe of pan-coated products
Stabilizes the dragee center and improves the surface quality
Provides a uniformly white-coated shell surface at low dosage levels
Reinforces the color appearance and allows for light-colored or pastel finishes
Enhances the crunchy profile of the product crust
Is easily applicable in production processes with or without cooking
Trims production time, boosts cost-efficiency
Souring agent for pan-coated goods / dragees
More info
Strong and stable sour impact
Sour effect is incorporated in the hard surface or around the center inside the products
No saccharose hydrolysis
No loss of acidity
Stable shelf life
Gelatin-free texturant for chewy confections
More info
Gives outstanding chewing properties
Stabilizes extruded sugar pastes
Dispersible in cold and warm water
Easier handling than gelatin
Targeted for chewy, pulled and aerated confectioneries
Ideal for Halal and Kosher products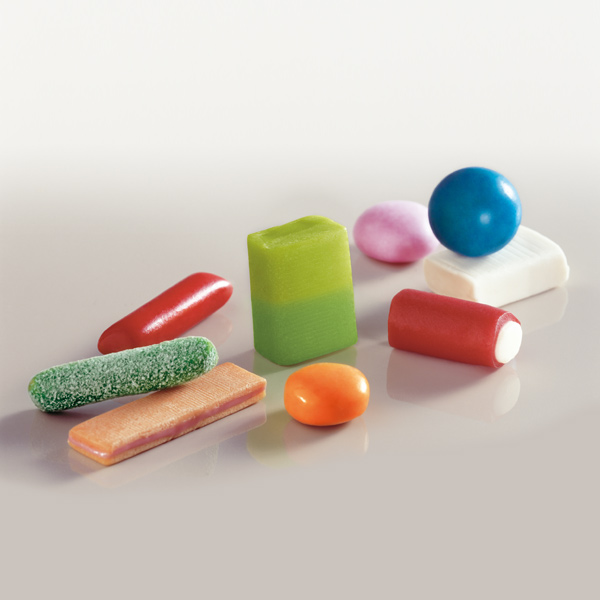 NUTRA CHEW PROTEX – CHEWIES
A vegetable– based gelatin replacer for chewies
More info
Nutra chew is the closest in chew properties to
gelatin-85%.
With Nutra Chew Protex you can go from cooker to table, no mixing of gelatin needed
A texturant for the production of pulled or extruded chewy candies and chewing gums. No cooking needed.
More info
Eliminates the cooking step
Reduces energy consumption
Customized texture
Individual ingredient composition
Adhesive and glazing powder for spice-coated nuts
More info
Offers outstanding adhesive properties
Creates stable adhesion of spices, coarse-grained salt, sugar or spices
Reduces rub-off effect
Builds up a protecting layer on the nuts
Minimizes the risk of superficial oily spots
Provides a good glazing effect