THE CHEWING GUM OF THE FUTURE: COMPRESSED POWDER GUM (CPG)
COLD process for a new delivery system of food supplements.
Functional gums with nutraceuticals (generally thermolabile substances) are the new ways to deliver health and dental benefits to consumers, taking the benefits of gum beyond the usual pleasure of chewing. By releasing functional ingredients such as vitamins, minerals, herbal extracts, antioxidants, caffeine and much more, the compressed powder gum (CPG) becomes an effective means to transport medicinal properties into the human body. It also offers a long-lasting taste and a high flavor load.
The production of compressed chewing gum with nutraceuticals is becoming the most promising sector in the Nutraceutical industry and a driving force as a delivery system in the global market.
Sintal Dietetics, is the main producers of functional CPG with nutraceutical ingredients in concentrations that allow mono/bi-daily dosing. Sintal's sophisticated COLD process technology offers a delivery system with unmatched chewing properties for food supplements. The main benefits are:
High active ingredients load;
Taste masking;
Excellent release of active ingredients;
Flexibility of shape and weight.
As a result, our CPG products – even unstable ones — have a shelf life of at least 24 months.
Here are some of the finished CPG products Sintal has developed.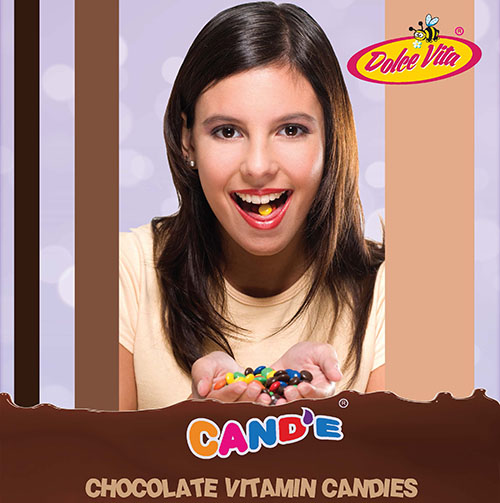 CHOCOLATE LENTILS
Partnering with Sintal Dietetics, we produce multi-vitamins, probiotics and minerals in chocolate lentils, a pleasant eating experience for adults and children, and can pack up to 100 % of the recommended daily dosage in one lentil-shaped candy.
Here are some of the finished chocolate vitamin candies Sintal has developed.
VITAMIN GUMMY CANDIES
Gummy candies are an easy, fun and tasty way for kids of all ages to get their daily intake of vitamins.  Working with Sintal, we customize gummy candies with your specified dosages of vitamins A, B3, B6, B12, C, D, E, and folic acid, plus a host of other supplements such as collagen and Coenzyme Q 10.  Our flavors include Coke raspberry, strawberry and citrus.
Here is a sampling of finished gummy vitamin products Sintal has developed.
FUNCTIONAL FILLED HARD CANDIES
Sintal produces sugar-free hard filled candies for use by adults and children.  The candies can be filled with high dosage levels of probiotics, Echinacea and other nutraceuticals.
Here is a sampling of filled hard candies Sintal has developed.